PREVIOUS CONFERENCES
2nd ICELL, International Conference on English Language and Literature
Proceedings Book
Keynote Speakers
PhD Yusuf Incetas
Associate Professor at Heritage University, Toppenish, Washington, USA
http://www.heritage.edu/Toppenish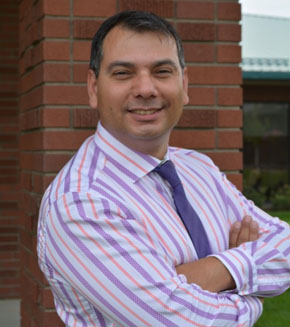 Bio and academic position
Yusuf Incetas Yusuf Incetas is a global educator with more than 20 years of teaching experience around the world. He worked as a certified public school teacher in the U.S.A., taught English as a second language at high school level in Turkey, Uzbekistan, and Indonesia, worked as an ESL instructor at Harvard University, and taught Turkish at the Defense Language Institute in Monterey, CA.
Some of his research interests include perceptions of Gulen-inspired educators on bilingual education, alienation and othering of the Hizmet Movement schools in the U.S.A. and in Turkey, and bilingual education for Turkish minority children in German public schools.
He holds a PhD in secondary and continuing education from the University of Illinois at Urbana-Champaign and currently works as an Associate Professor at Heritage University in Washington State. [e-mail: [email protected]]
Note to the topic
Title: "The Gradual Release of Responsibility in the ESL Classroom"
The traditional teacher-led classroom instruction with minimal student participation can potentially be a burdensome experience for everyone in class. This is especially so in the ESL classroom where constant student interaction and involvement is the key to master a foreign language. The Gradual Release of Responsibility (GRR) is a method that can turn this problem around. Through the GRR, the students eventually take charge of their own language learning experience.
M. Murat Erguvan, M.A.
International Black Sea University (IBSU), Tbilisi, GEORGIA
https://www.ibsu.edu.ge/en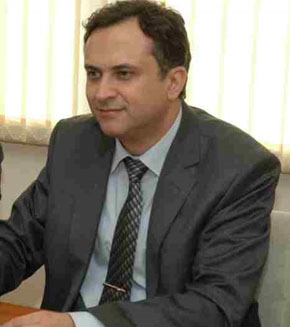 Bio and academic position
M. Murat Erguvan has a long teaching experience in English Language Teaching. He's currently with IBSU where he's doing his Ph.D. in Education Management on Total Quality Management in Higher Education. He did his B.A. (Hacettepe University, Turkey) and M.A. (University of Languages, Azerbaijan) in the field of Translation and Interpretation; however, the teaching certificate he earned from Marmara University compounded with his deep interest in ELT led him to teaching English for 18 years in various countries before he could not avoid the temptation for doing a Ph.D. anymore. Coming from a technological background thanks to a vocational high school education inspired him to combine technology with ELT from the very beginning. He produced software for ELT, and heavily uses technology both for administrative work and teaching. [e-mail: [email protected]]

Note to the topic
Topic: Using Instructional Technologies in ELT
Prof. Dr. Maya Khemlani David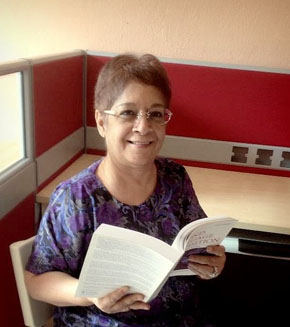 Bio and academic position
Professor Dr. Maya Khemlani David (Faculty of Languages and Lingusitics, University of Malaya) received the Linguapax Award in 2007 and is an Honorary Fellow of the Chartered Institute of Linguists, United Kingdom and an Honarary Member of the Foundation of Endangered Languages. As a sociolinguist, Dr. David has a special interest in discourse analysis, languages in Malaysian minority communities, and the role of language in establishing and maintaining national unity within and across cultures. Dr. David is a Member of the Managing Board of The Social Capital Foundation and a Member of the Editorial Board of the Journal of Communication Practices. Maya David is the Linguapax Prize Winner for 2007.
Publications
Her publications include The Sindhis of Malaysia: A Sociolinguistic Account (2001, London, ASEAN) and she has co-written Writing a Research Paper (2006, Serdang: UPM). Her co-edited and edited publications are Politeness in Malaysian Family Talk (2008, Serdang: UPM), Language and Human Rights: Focus on Malaysia (2007, Serdang: UPM), Language and the Power of the Media (2006, Frankfurt, Peter Lang), Language Choices and Discourse of Malaysian Families: Case Studies of Families in Kuala Lumpur, Malaysia (2006, Petaling Jaya, Strategic International and Research Development Centre), Teaching of English in Second and Foreign Language Settings: Focus on Malaysia (2004, Frankfurt, Peter Lang) and Developing Reading Skills (2002, Kuala Lumpur: Melta/Sasbadi). Dr. David can be contacted at: [email protected]
---
1st ICELL, International Conference on English Language and Literature
Proceedings Book
Keynote Speakers
Prof. Dr. Stephen Tapscott
Massachutes Institute of Tech., Massachutes, USA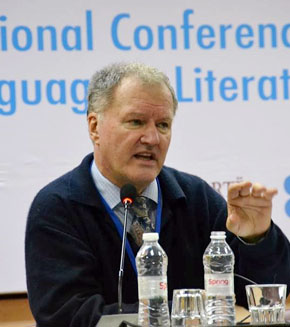 Stephen Tapscott is a poet whose fields of interest include creative writing (poetry, experimental prose), poetry as a literary genre, and translation. His academic interests include North American writing [especially Walt Whitman, Anglo-American Modernists, writers since WWII], Latin American poetry, world poetries in Russian, German, and Polish; autobiography; gender studies and queer studies; photography and other visual arts.
He's published five books of poems and a book of criticism (on Walt Whitman and William Carlos Williams). In recent years he's edited an anthology of Latin American Poetry, and translated books by Pablo Neruda (One Hundred Love Sonnets), Jan Twardowski (God Asks for Love), Wislawa Szymborska (The End and the Beginning), and Gabriela Mistral (Selected Prose and Prose Poems).
Prof. Dr. Adina Ciugureanu
Ovidius University, Constanta, Romania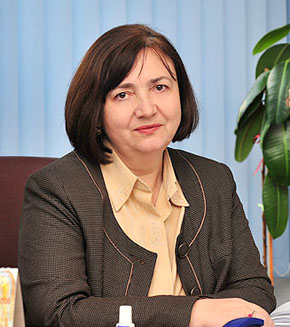 Professor of English and American Literature at Ovidius University Constanta, Romania. She got her B.A. in English and French and her Ph.D. in English and American literature at the University of Bucharest, Romania. She is the author of High Modernist Poetic Discourse (1997), based on her dissertation. Following a Fulbright research grant in the USA, she published a study on American popular culture seen as a remodeling of European cultural patterns, The Boomerang Effect (2002). More recent publications are Modernism and the Idea of Modernity (2004), Victorian Selves (2004), and Post-War Anxieties (2006). She has also published a large number of articles and essays in volumes and journals at home and abroad. The articles are focused mainly on British and American culture in the nineteenth and twentieth century.
PD. PhD. Mirriam Wallraven
Eberhard Karls University, Tubingen, Germany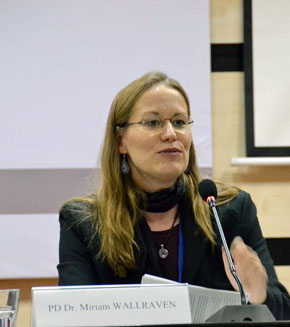 PD Dr. Miriam Wallraven is assistant professor of English Literature at the University of Tübingen, Germany. She holds a PhD in English Literature and teaches literature from the 16th to the 21st century.
Her current research focuses on modern and postmodern literature, gender studies, religion, spirituality, and literature, narratology, and cultural studies. She is the author of A Writing Halfway between Theory and Fiction: Mediating Feminism from the Seventeenth to the Twentieth Century (2007) and many articles. Her second book (Habilitation) is Women Writers and the Occult in Literature and Culture: Female Lucifers, Priestesses, and Witches will be published by Routledge in 2015.