PREVIOUS CONFERENCES
5th ICELL, International Conference on English Language and Literature
Proceedings Book


4th ICELL, International Conference on English Language and Literature
Proceedings Book
Keynote Speakers
CASPAR TEN DAM
Analyst, advisor, editor, illustrator, translator, Leiden University, the NETHERLANDS
[email protected] www.ctdamconsultancy.com
Caspar TEN DAM was born in Dordrecht, Netherlands in 1967. He is a conflict analyst and PhD-researcher on Chechen and Albanian insurgencies at the Institute of History of Leiden University, the Netherlands. His specialty lies in the analysis of armed conflicts, including applying and testing his own Brutalisation theory and definitions of terrorism, banditry, rebellion and other forms and manifestation of violence. Analyst, advisor, editor, illustrator (e.g. for 'Soul of Leiden' project, http://dezielvanleiden.nl, and translator of manuscripts (e.g. for Tasso Publishers, www.tassouitgeverij.nl , since 2014 through my CTDam Consultancy www.ctdamconsultancy.com. Secretary & co-founder of Association for the Study of EthnoGeoPolitics (EGP). Since 2013, executive editor of the journal Forum of EthnoGeoPolitics (www.ethnogeopolitics.org). Partially funded PhD research 'Ways to Rebel: Testing a theory of Brutalisation on the Chechen and Albanian insurgents 1979-2001'. Chairman & co-founder of the International Committee for Humanitarian Intervention (www.ichuminterv.org). Leading member of Political Committee 'Stari Most' - Justice and Peace on the Balkans (PCSM; www.starimost.nl). Spokesman 1994-96, 2004. Treasurer 1997-98. Chairman 1999-2003. Board member since.

Paper Title: The Chechen as the Alien Other and/or the Identifiable us in recent English-Language Accounts of the Chechen Conflict
---
BUJAR HOXHA
Associate Professor, translator, researcher in Semiotics, South-East European University, Tetovo and Skopje, MACEDONIA
http://www.seeu.edu.mk/en/faculties/LCC/lcc-staff
Dr. Bujar Hoxha was born in Skopje, Macedonia, and is Albanian by ethnic belongings, holding a Macedonian citizenship. He graduated English and Italian Language at the State University of Skopje. He completed his Master's Degree at the University of Zagreb in the fields of Literature and Philosophy, and his Doctoral Degree at the University of Skopje. His research fields are: semiotics of literature, semiotics of passions, existential semiotics and semiotics of disabilities.

Dr Bujar HOXHA currently works as an associate professor at the Department of Communication Sciences at the SEEU, Macedonia. Out of his publication activities, one can number two published novels in Albanian ( 1995 and 2006), a translation of Umberto Eco's book into Albanian ( previously published in English at the University of Harvard and in Italian by Bompiani). "Gjashte udhetime neper pyjet narrative" appeared into Albanian in 1997, by the publishing house "Asdreni" from Skopje. He also has published several other papers, such as 'A Paradoxical Way of Communication of the Children with Autism Disorder Spectrum Syndrome", California, USA, 2015, "Sui limiti della semiotica. L'oggettivita opposta alla soggettivita", in "EC", Rivista italiana di semiotica, University of Palermo, Italy, 2015, as well as "Semiotics of Precision and Imprecision" in "Semiotica" de Gruyter, Mouton Editions, Berlin and Toronto, Germany and Canada, 2016. His forthcoming publications are: "Multilingualism in a Semiotic Contexts and Sameness vs. Otherness", by de Gruyter, Berlin during 2017, as well as 'Fiction and Reality in Eco's Words, in "Umberto Eco in His Own Words" to be published by de Gruyter Berlin, Germany, in August, 2017.
Dr. Hoxha is a member of the International Semiotic Institute of Semiotics, at the Technological University in Kaunas, Lithuania, as well as a part of the Project 'Semiotics of Cultural Heritages", led by the honorary Director of the Institute, Dr. Eero Tarasti, from the University of Helsinki, Finland.
Paper Title: On Eco's Interpretative Nature Of The Process Of Narration (A Semiotic Prospective)
---
WILLIAM K. MARTIN
Literary critic, counsellor, honours in Ancient History and American History, University of Utah, USA
[email protected] [email protected]
Professor William K. Martin took his first Bachelor degree in English Literature. He says that this degree taught him how to write a good business letter; and, moreover, it taught him how to think. After a successful career in business, Professor Martin sold his company and went back to the university, taking a second Bachelor degree in Latin and Ancient Greek, a Master's degree in Ancient History, and finally a PhD in American History at the University of Utah – where in addition to his studies, he taught courses in history, English and in the humanities. He has published in literary and historical criticism. His first love, he says, has always been English Language and Literature, in which department he teaches at Beder University. He has lived in Albania for two years and makes Tirana his home.
Paper Title: Stylistics: an Effective Approach to Literary Analysis


3rd ICELL, International Conference on English Language and Literature

Proceedings Book



Keynote Speakers


Prof. TAKAYUKI YOKOTA-MURAKAMI
Associate Professor in Comparative Literature at Osaka University, JAPAN.
http://www.dma.jim.osaka-u.ac.jp/view?l=en&u=755
email: [email protected]
Bio and academic position
TAKAYUKI YOKOTA-MURAKAMI is a prolific comparativist whose main fields are literary theory, translation theory, Japanese literature, Russian literature, and (Japanese) popular culture, but he has also researched and published on other traditions as well, including English literature. Much inspired by cotemporary linguistic theories, his most recent research interest is bilingualism/ polyglotism in literature. He is now writing a book-length study on the function of the concept of "mother tongue" in literature and literary criticism. He is currently associate professor in comparative literature at Osaka University, Japan. He serves in a variety of capacities in a number of academic organizations, both domestic and international. He has PhD from Princeton University in comparative literature. His publication include: Don Juan East/West: On the Problematics of Comparative Literature (SUNY P, 1998), Iro-otoko no Kenkyu (The Study of Japanese Libertines; Tokyo: Kadokawa Gakugei Shuppan, 2007; winner of the Suntory Award for Outstanding Academic books), several other monographs, and a few dozens of articles in collections of essays and peer-reviewed academic journals.
Note to the topic: English and Cosmopolitanism: their Significance for the Diasporic Russian-Jewish Literati
Prof. GIOIELLA BRUNI ROCCIA
Associate Professor of English Literature, LUMSA University, Rome, ITALY
http://www.lumsa.it/didattica_dipartimenti_scieclinpol_triennali_l12
email: [email protected]
Bio and academic position
GIOIELLA BRUNI ROCCIA is Associate Professor at LUMSA University (Rome). At present she is also Director of the newly established degree course in Language Mediation and Intercultural Communication (Mediazione Linguistica e Culturale), where she teaches English Literature and Theory of Translation. Her major research interests lie in the interrelations among narrative, scientific and philosophical discourse during the Long Eighteenth Century. Her publications in this field include, besides numerous articles on the most important novelists of the period, the translation and critical edition of Shaftesbury's Sensus Communis. An Essay on the Freedom of Wit and Humour (Rome, 2006) and a monograph on John Locke (Locke e la costruzione del lettore moderno. Sulle soglie del 'Saggio sull'intelletto umano', Rome, 2013). She has also devoted her critical attention to authors and works that marked a turning-point in English literary history, such as the first generation of Romantic poets with their innovative theory of poetic language, and the experimental fiction of the major modernist writers. The intersection between these two lines of research led to the publication of a comparative and intertextual analysis, entitled Myriadminded Men. Coleridge and Joyce (Rome, 2008).
Note to the Topic: Between Parentheses: The Poetics of Irrelevance in Virginia Woolf's Experimental Fiction
PhD. PËRPARIM XHAFERI
University of Sydney, Sydney, AUSTRALIA
email: [email protected]
Bio and academic position
PËRPARIM (RIMI) XHAFERI was born in Albania and lived in Italy, and Australia. As many Albanians, due to economic constraints, he migrated to Italy in 1992; a time that he worked for the Humanitarian mission "Eagle", led by the Albanian Defence Ministry. He holds a Bachelor Degree of Transport from the Military Academy (Skenderbej) in Albania; a Graduate Diploma in Humanities and Social Science and a Bachelor of Arts (Honours) from La Trobe University (Australia). He is currently a Ph.D candidate at the University of Sydney and works for Victoria University (Melbourne). His areas of interest are language and culture. In his current dissertation, he is exploring the Albanian identity through analysis of some latest works of the Albanian prominent writer Ismail Kadare. Rimi's work has engaged him with translating into English large amounts of material from Albanian sources; making him an interpreter and analyst of Albanian cultural and political materials into English language.
Note to the topic: The Political Contribution of Albanian Writers in Defining Albanian Identity: the Debate between Ismail Kadare and Rexhep Qosja


2nd ICELL, International Conference on English Language and Literature
Proceedings Book
Keynote Speakers
PhD Yusuf Incetas
Associate Professor at Heritage University, Toppenish, Washington, USA
http://www.heritage.edu/Toppenish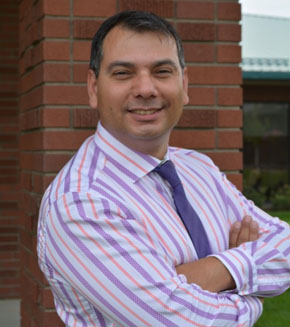 Bio and academic position
Yusuf Incetas Yusuf Incetas is a global educator with more than 20 years of teaching experience around the world. He worked as a certified public school teacher in the U.S.A., taught English as a second language at high school level in Turkey, Uzbekistan, and Indonesia, worked as an ESL instructor at Harvard University, and taught Turkish at the Defense Language Institute in Monterey, CA.
Some of his research interests include perceptions of Gulen-inspired educators on bilingual education, alienation and othering of the Hizmet Movement schools in the U.S.A. and in Turkey, and bilingual education for Turkish minority children in German public schools.
He holds a PhD in secondary and continuing education from the University of Illinois at Urbana-Champaign and currently works as an Associate Professor at Heritage University in Washington State. [e-mail: [email protected]]
Note to the topic
Title: "The Gradual Release of Responsibility in the ESL Classroom"
The traditional teacher-led classroom instruction with minimal student participation can potentially be a burdensome experience for everyone in class. This is especially so in the ESL classroom where constant student interaction and involvement is the key to master a foreign language. The Gradual Release of Responsibility (GRR) is a method that can turn this problem around. Through the GRR, the students eventually take charge of their own language learning experience.
M. Murat Erguvan, M.A.
International Black Sea University (IBSU), Tbilisi, GEORGIA
https://www.ibsu.edu.ge/en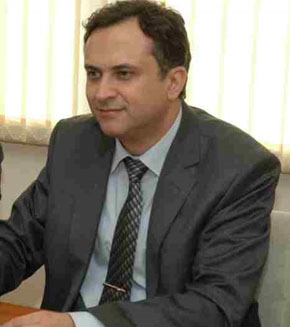 Bio and academic position
M. Murat Erguvan has a long teaching experience in English Language Teaching. He's currently with IBSU where he's doing his Ph.D. in Education Management on Total Quality Management in Higher Education. He did his B.A. (Hacettepe University, Turkey) and M.A. (University of Languages, Azerbaijan) in the field of Translation and Interpretation; however, the teaching certificate he earned from Marmara University compounded with his deep interest in ELT led him to teaching English for 18 years in various countries before he could not avoid the temptation for doing a Ph.D. anymore. Coming from a technological background thanks to a vocational high school education inspired him to combine technology with ELT from the very beginning. He produced software for ELT, and heavily uses technology both for administrative work and teaching. [e-mail: [email protected]]

Note to the topic
Topic: Using Instructional Technologies in ELT
Prof. Dr. Maya Khemlani David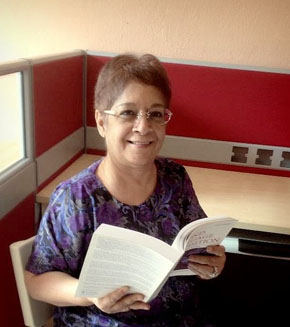 Bio and academic position
Professor Dr. Maya Khemlani David (Faculty of Languages and Lingusitics, University of Malaya) received the Linguapax Award in 2007 and is an Honorary Fellow of the Chartered Institute of Linguists, United Kingdom and an Honarary Member of the Foundation of Endangered Languages. As a sociolinguist, Dr. David has a special interest in discourse analysis, languages in Malaysian minority communities, and the role of language in establishing and maintaining national unity within and across cultures. Dr. David is a Member of the Managing Board of The Social Capital Foundation and a Member of the Editorial Board of the Journal of Communication Practices. Maya David is the Linguapax Prize Winner for 2007.
Publications
Her publications include The Sindhis of Malaysia: A Sociolinguistic Account (2001, London, ASEAN) and she has co-written Writing a Research Paper (2006, Serdang: UPM). Her co-edited and edited publications are Politeness in Malaysian Family Talk (2008, Serdang: UPM), Language and Human Rights: Focus on Malaysia (2007, Serdang: UPM), Language and the Power of the Media (2006, Frankfurt, Peter Lang), Language Choices and Discourse of Malaysian Families: Case Studies of Families in Kuala Lumpur, Malaysia (2006, Petaling Jaya, Strategic International and Research Development Centre), Teaching of English in Second and Foreign Language Settings: Focus on Malaysia (2004, Frankfurt, Peter Lang) and Developing Reading Skills (2002, Kuala Lumpur: Melta/Sasbadi). Dr. David can be contacted at: [email protected]
---
1st ICELL, International Conference on English Language and Literature
Proceedings Book
Keynote Speakers
Prof. Dr. Stephen Tapscott
Massachutes Institute of Tech., Massachutes, USA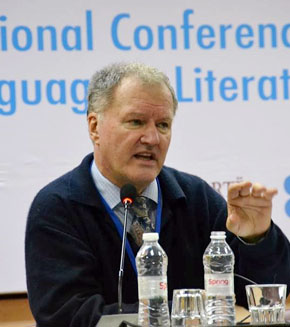 Stephen Tapscott is a poet whose fields of interest include creative writing (poetry, experimental prose), poetry as a literary genre, and translation. His academic interests include North American writing [especially Walt Whitman, Anglo-American Modernists, writers since WWII], Latin American poetry, world poetries in Russian, German, and Polish; autobiography; gender studies and queer studies; photography and other visual arts.
He's published five books of poems and a book of criticism (on Walt Whitman and William Carlos Williams). In recent years he's edited an anthology of Latin American Poetry, and translated books by Pablo Neruda (One Hundred Love Sonnets), Jan Twardowski (God Asks for Love), Wislawa Szymborska (The End and the Beginning), and Gabriela Mistral (Selected Prose and Prose Poems).
Prof. Dr. Adina Ciugureanu
Ovidius University, Constanta, Romania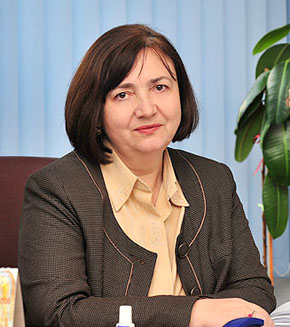 Professor of English and American Literature at Ovidius University Constanta, Romania. She got her B.A. in English and French and her Ph.D. in English and American literature at the University of Bucharest, Romania. She is the author of High Modernist Poetic Discourse (1997), based on her dissertation. Following a Fulbright research grant in the USA, she published a study on American popular culture seen as a remodeling of European cultural patterns, The Boomerang Effect (2002). More recent publications are Modernism and the Idea of Modernity (2004), Victorian Selves (2004), and Post-War Anxieties (2006). She has also published a large number of articles and essays in volumes and journals at home and abroad. The articles are focused mainly on British and American culture in the nineteenth and twentieth century.
PD. PhD. Mirriam Wallraven
Eberhard Karls University, Tubingen, Germany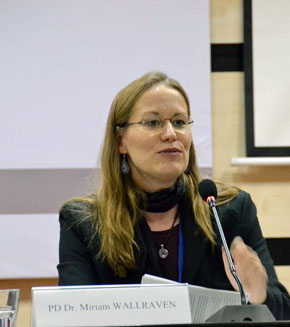 PD Dr. Miriam Wallraven is assistant professor of English Literature at the University of Tübingen, Germany. She holds a PhD in English Literature and teaches literature from the 16th to the 21st century.
Her current research focuses on modern and postmodern literature, gender studies, religion, spirituality, and literature, narratology, and cultural studies. She is the author of A Writing Halfway between Theory and Fiction: Mediating Feminism from the Seventeenth to the Twentieth Century (2007) and many articles. Her second book (Habilitation) is Women Writers and the Occult in Literature and Culture: Female Lucifers, Priestesses, and Witches will be published by Routledge in 2015.